vPenTest
Automated Network Penetration Test Platform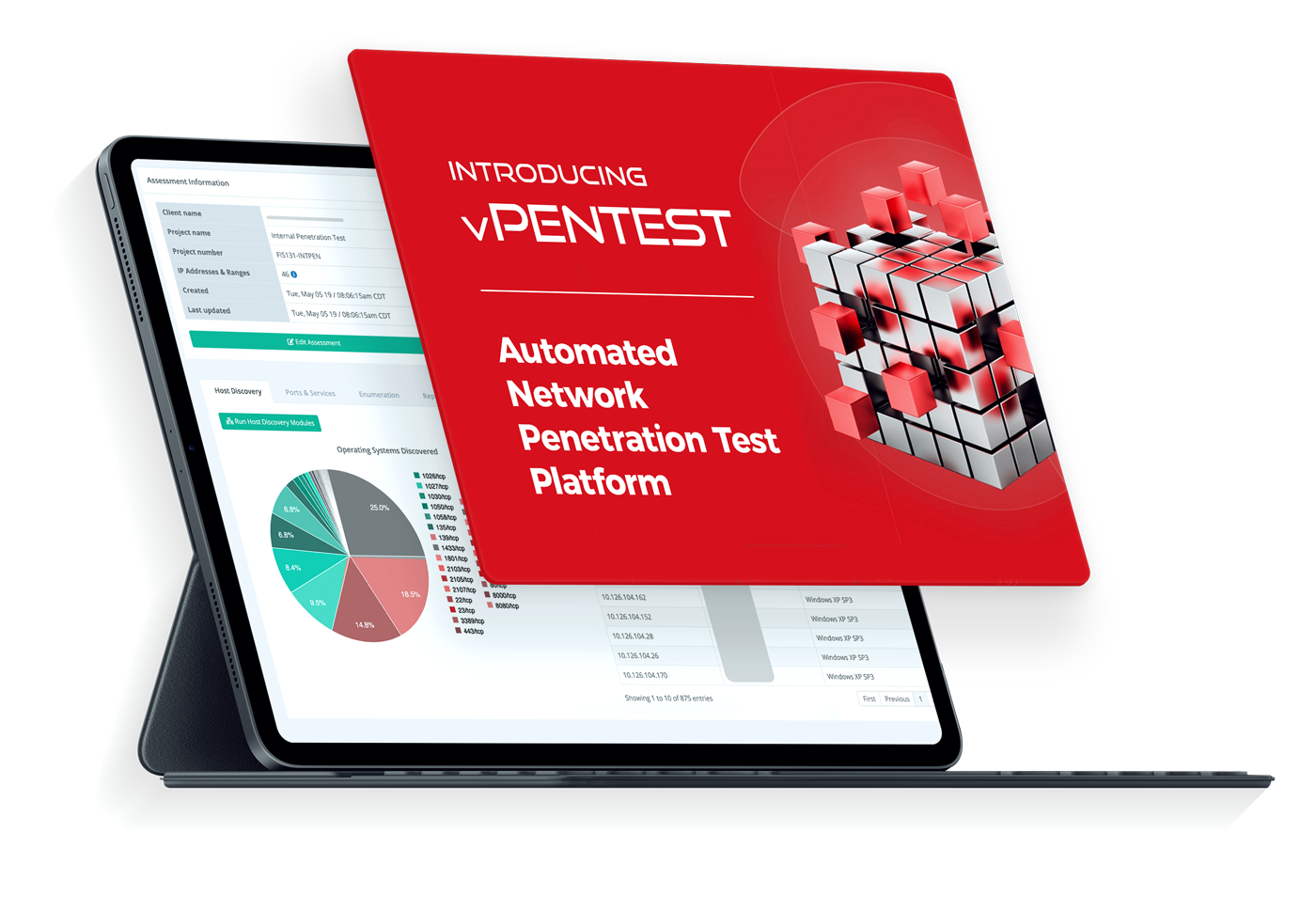 Automated and full-scale penetration test platform that makes network penetration testing more affordable, scalable, accurate, faster, consistent, and not prone to human error.

REAL-TIME AUTOMATED Penetration Test Platform
vPenTest essentially combines the knowledge, methodologies, techniques, and commonly used tools of multiple consultants into a single platform that consistently exceeds expectations of a penetration test. By developing our proprietary framework that continuously grows based on our research & development, we're able to modernize the way penetration tests are conducted.
This penetration test is driven by our framework and assisted by an experienced consultant that is maximizing their time and effort on activities that provide the most value to our customers.
vPenTest Solves Today's CHALLENGES
Traditionally, companies face some of the following challenges when looking for a qualified vendor:
Seeking a vendor that is available to perform the penetration test,
Interviewing the consultants to ensure their experience is advanced,
Hoping communication is consistent and frequent to ensure knowledge transfer between consultants and the primary point of contact,
Ensuring the vendor doesn't sell a vulnerability assessment as a penetration test, and
Quality deliverables that effectively communicate what vulnerabilities were identified, what risk it presents to the organization, as well as how to remediate those vulnerabilities from a technical and strategic standpoint. The list goes on! 
We've spent quite a while developing vPenTest to solve all of these challenges,
and it only gets better!
Real-Time
STATUS REPORTS
Gone are the days where your staff is wondering what the current status is. Through our real-time status reports, your staff will know exactly what the progress is of the engagement, when it's expected to be completed, as well as any preliminary findings that we've identified. You can view the current status of the entire project, or just the individual project phases.

Your staff will always know when and what activities are taking place.
Real-Time
ACTIVITY TRACKING
To maximize the value of our penetration tests, vPenTest includes an activity log that monitors all activities performed during the penetration test. Network teams can correlate our activities with their SIEM and incident response procedures. Every engagement is essentially a purple team assessment.
vPenTest is backed by consultants with over 10 years experience, holding certifications ranging from CISSP, eCPPT, OSCP, OSCE, CEH, and more. Having conducted hundreds of security assessments for hundreds of clients within various industries, we've taken the most valuable strengths and combined them into a platform that allows our customers to have high quality assessments performed at their own convenience.
The most valuable network penetration test, ready at your convenience.
Let us demonstrate why it's industry-leading.